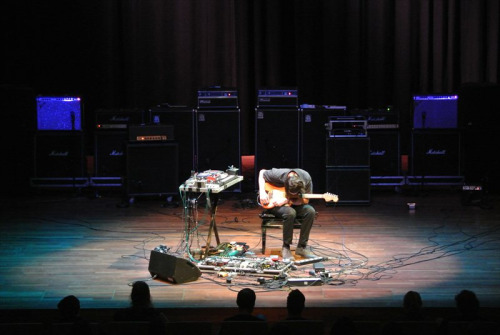 € 20 / € 15 (red.) / €5 (-26) / € 0
Als men een speld kan horen vallen, zijn er twee mogelijkheden. Ofwel is het erg stil, ofwel is de speld elektronisch versterkt. Uit die wijsheid heeft gitarist Raphael Vanoli zijn conclusies getrokken. Hij trok zich terug in de stilte van een Frans klooster en kwam naar buiten met een negendelig werk dat voornamelijk bestaat uit klanken die je normaal niet kan horen. Net als het Keltische plaatsje Bibrax valt Vanoli's gelijknamige klankstudie moeilijk te situeren. Noem het akoestische delicatessen uit het spookhuis, of het luidste gefluister ter wereld?
If you can hear a pin drop, there are two possibilities. Either it is very quiet, or the pin is electronically amplified. This led guitarist Raphael Vanoli to reconsider low volumes. He retreated into the silence of a French monastery and reemerged with a new nine part work that consists mainly of sounds that you would otherwise not be able to hear. Like the Celtic village of Bibrax, Vanoli's sound study of the same name is difficult to pinpoint. Acoustic delicacies from a haunted house or the loudest whisper in the world?
Raphael Vanoli

– Bibrax (2018)