ADAM Quartet
— Vasks, Webern & De Jonghe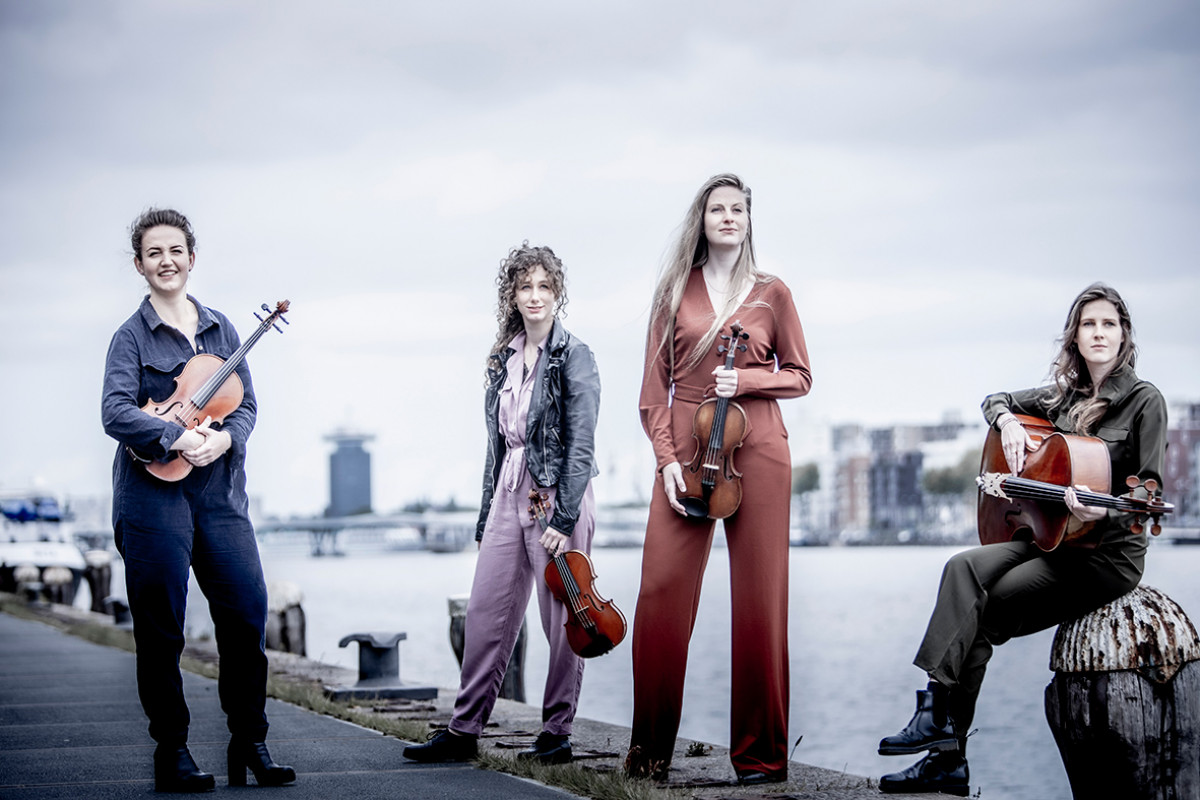 € 20 / 15 (red.) / 5 (-26)
archief
miry ensemble

Trouw aan het genre, maar met een eigen toets. Dat is de missie van het ADAM Quartet. De muzikanten zijn allevier alumnae van het Amsterdamse conservatorium en vervolmaken zich thans aan de Nederlandse Strijkkwartet Academie. Centraal staat het vierde strijkkwartet van Pēteris Vasks, een toondichter die zijn Letse wortels moeilijk kan loochenen. Niet alleen woont de letter e in zijn naam onder een dakje, uit zijn muziek spreekt die typische Baltische mystiek. Denk aan herfstige bossen, zwanen in de mist, maar ook – en dat verklaart de soms verwrongen toon in zijn werk – een mensheid die deze natuur belaagt. Anton Webern kennen we dan weer als de meest radicale van de Tweede Weense School. Zijn Langsamer Satz is echter een vroeg werk in dermate laatromantische stijl, dat je het amper gelooft. Het stuk wordt gecomplementeerd door een worp uit de compositieklas.
True to the genre, but with its own touch: this is the mission of the ADAM Quartet. All four musicians are alumni of the Amsterdam Conservatory, currently completing their studies at the Netherlands String Quartet Academy. The programme centres on the fourth string quartet by Pēteris Vasks, a composer who has difficulty denying his Latvian roots. Not only does the letter e in his name live under a roof, but his music speaks a characteristically Baltic mysticism. Think of autumnal forests, swans in the mist, as well as ‒ and this explains the sometimes distorted tone in his work ‒ a mankind that beleaguers this nature. We know Anton Webern as the most radical of the Second Viennese School. His Langsamer Satz, however, is an early work in such a late romantic style that one hardly believes it. The piece is complemented by a venture from the composition class.
Margot Kolodziej viool
Hannelore De Vuyst viool
Liselot Blomaard altviool
Renee Timmer cello
Het ADAM Quartet maakt deel uit van het MADE IN MIRY programma.
P. Vasks (1946)

– Strijkkwartet nr. 4

A. Webern (1883-1945)

– Langsamer Satz

Componist KASK & Conservatorium: Ward De Jonghe

– Strijkkwartet II