ADAM Quartet
— Mozart, Shaw & Keçeli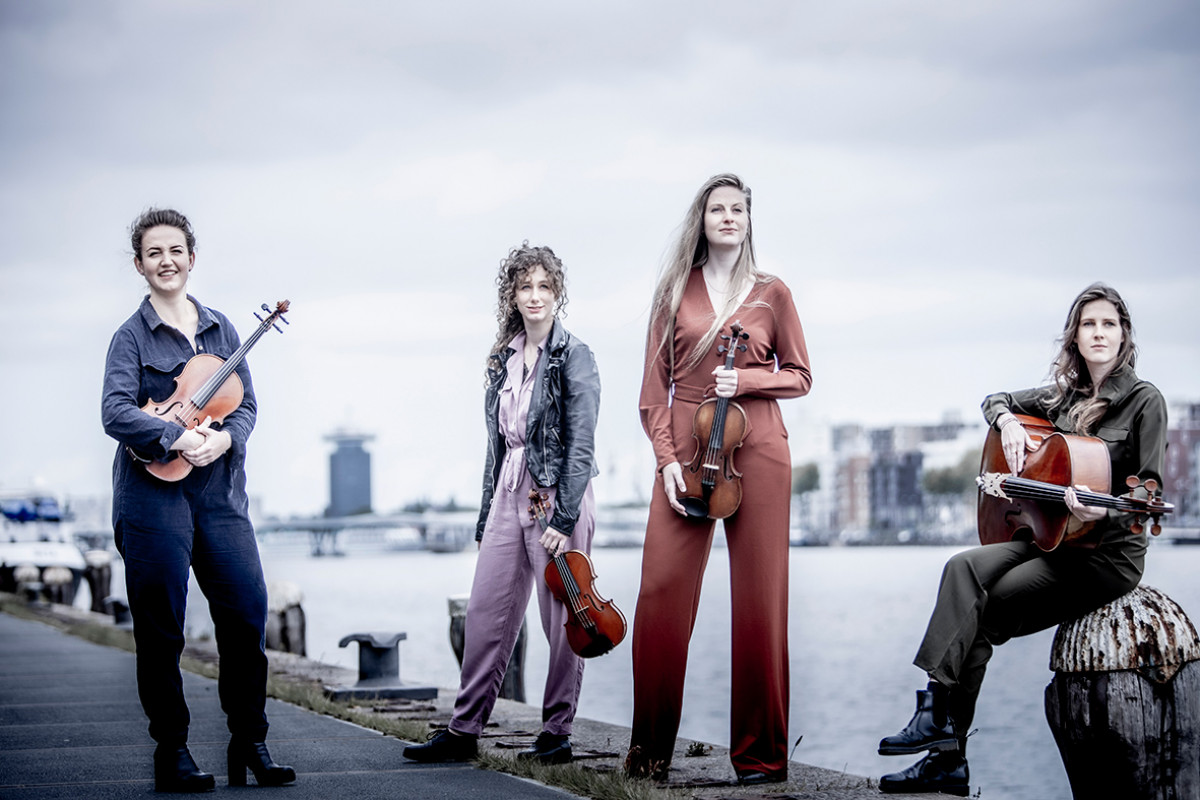 Trouw aan het genre, maar met een eigen toets. Dat is de missie van het ADAM Quartet. De muzikanten zijn alle alumnae van het Amsterdamse conservatorium en vervolmaken zich thans aan de Nederlandse Strijkkwartet Academie.
Op het programma staat het bekende 19de strijkkwartet van Wolfgang Amadeus Mozart. Het werd opgedragen aan vriend en collega Joseph Haydn en was naar eigen zeggen de vrucht van 'lang en moeizaam werk'. Vandaag kennen we het onder de toepasselijke bijnaam 'dissonantenkwartet' vanwege een uiterst fascinerend chromatische inleiding die flirt met de grenzen van de tonaliteit.
Mozart geniet deze avond het gezelschap van Caroline Shaw, trotse houder van een Pulitzer Prize voor muziek. Haar entr'acte verwijst eveneens naar Haydns muziek, al is ze geen persoonlijke pennenvriend van de man. Zelf beschrijft ze haar werk als 'music with absurd, subtle, technicolor transitions', wat onze nieuwsgierigheid alvast meer dan prikkelt.
Het programma wordt vervolledigd door een creatie van Furkan Keçeli,  student compositie aan KASK & Conservatorium.
True to the genre, but with its own touch: this is the mission of the ADAM Quartet. All four musicians are alumni of the Amsterdam Conservatory, currently completing their studies at the Netherlands String Quartet Academy.
On the programme is the famous 19th string quartet by Wolfgang Amadeus Mozart. It was dedicated to his friend and colleague Joseph Haydn and was, according to himself, the fruit of 'long and arduous labour'. Today, we know it by the appropriate nickname of 'dissonant quartet' due to a  fascinating chromatic introduction that skirts the boundaries of tonality.
Mozart would certainly have enjoyed the music of Caroline Shaw, proud holder of a Pulitzer Prize. Though no personal pen pal, her entr'acte also happens to refer to Haydn's music. She describes her work as 'music with absurd, subtle, technicolor transitions', which certainly arouses our curiosity.
The programme is completed by a creation by Furkan Keçeli, composition student at KASK & Conservatory.
Margot Kolodziej viool
Hannelore De Vuyst viool
Liselot Blomaard altviool
Renee Timmer cello
Het ADAM Quartet maakt deel uit van het MADE IN MIRY programma.
W.A. Mozart (1756-1791)

– Strijkkwartet nr. 19

C. Shaw (1982)

– entr'acte

Componist KASK & Conservatorium: Furkan Keçeli (1995)

– Episodic I from Sonic Mnemonics (Creatie)